4 Cup Brew-fresh Stainless Steel Italian Style Expresso Coffee Maker for Use on Gas Electric and Ceramic Cooktops
Basic Info
Model No.: WW-FE021-5 Espresso Coffee Maker Moka Pot
Product Description
4 Cup Brew-fresh Stainless Steel Italian Style Expresso Coffee Maker for Use on Gas Electric and Ceramic Cooktops :  
An Espresso Coffee Maker is an Italian steam-based stovetop espresso maker that produces a dark coffee almost as strong as that from a conventional espresso maker.
Moka coffee is produced using only steam's natural pressure.
It's suitable for gas stove,electric and induction cooker.
Item NO.
Capacity(cups)
Material
QTY(pcs)/CTN
 MEANS(cm)
  NW(KG)
WW-FE021    
 2 cups
Stainless Steel    
 36pcs/CTN
 58*33.5*34
  11.3KG
 4 cups
 30pcs/CTN
 50*37*38
   11.0KG
 6 cups
 24pcs/CTN
 42*39.5*44
   10.5KG
 9 cups
 24pcs/CTN
 48*45.5*49
   12.0KG
Wholesale Stovetop Cooks Stainless Steel Espresso Coffee Maker Moka Pot Details: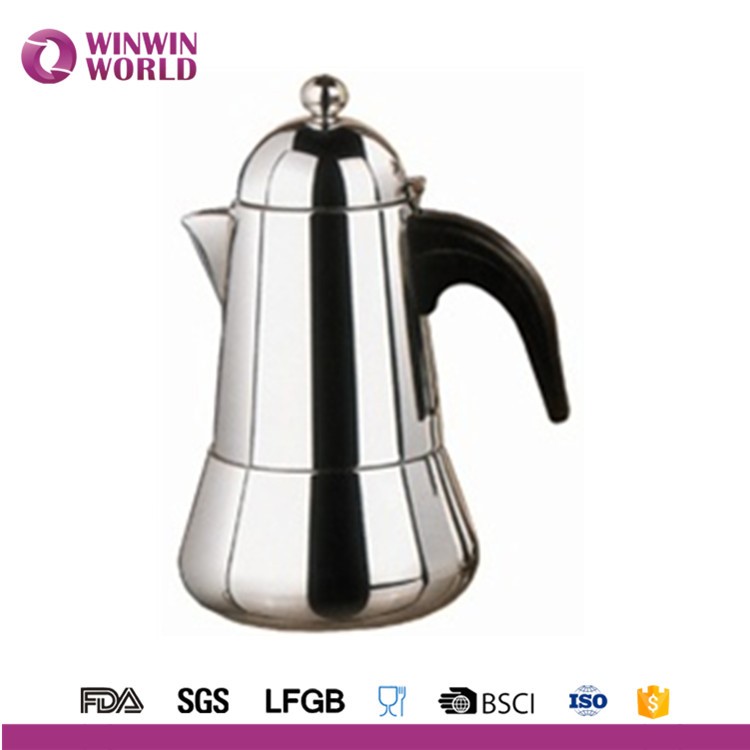 Wholesale Stovetop Cooks Stainless Steel Espresso Coffee Maker Moka Pot Composition:
 
 
 

Moka pots are three-chambered metal pots. These pots are available in 2-, 4-, 6- and 9-cup sizes and all come in three parts(see left image):

 

A. The top chamber is where the brewed coffee ends up.

 

B. Middle is a perforated coffee basket or funnel to hold the grounds, which should be lightly packed.

 

C. Bottom chamber holds fresh water and usually has a pressure valve.
 How to use coffee maker?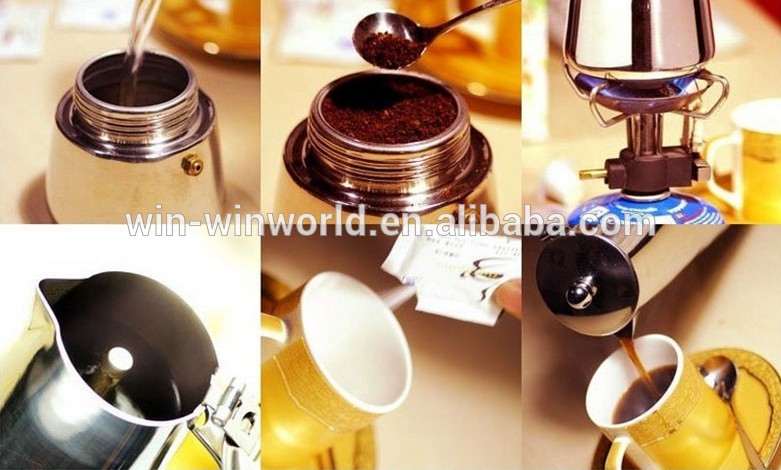 First using: Put some unwanted old used coffee grounds and brew. The first pot of coffee should be thrown away. The intent is just to clean the machine out before using it for the first time and to make sure the pressure relief valve is working ok.
Trouble Shooting:
If the coffee is not brewing properly, check to see if any steam is escaping from the area where the top and bottom parts screw together.
If you see steam escaping, this can be the sign of two things. If the grind of the coffee is too fine or the coffee is too compacted, the steam cannot force its way through the coffee. You need to screw the top and bottom together more tightly.

Product Categories : Coffee Wares > Espresso Coffee Maker